Tag Archives:
boston red sox
Jamie Moyer and this 1963 Chevrolet Impala (about the same age as the pitcher, Moyer was born Nov. 18, 1962) have some parallels. Through 1995 Moyer was roughly a .500 pitcher with a career record of 57-56. He was 7-1 in Boston at the time of his 1996 trade to the Seattle Mariners. Moyer finished the year at 13-3. The Mariners had found a diamond in the rough.
Read Les Carpenter of Yahoo! Sports finish the story here.
The Minnesota Twins finally have a place to call "their own" for the first time in team history as they opened their new stadium, Target Field. They opened their new home tonight with a 5-2 win versus the Boston Red … Continue reading →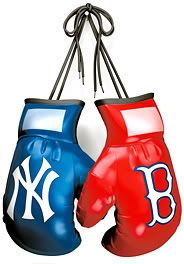 Not much has changed in the past dozen or so years in the AL East. It's a two team race between the Red Sox and Yankees, and 2010 is no exception.
The Sox went out and got Adrian Beltre, a valuable free agent signing who should re-discover his power stroke in Fenway Park and compete once again for a Gold Glove. Continue reading →
Posted in

baseball, sports
Tagged

adrian beltre, american league east, boston red sox, bronk bombers, champions, defense, fenway park, free agents, gold glove, javier vazquez, john lackey, johnny damon, mvp, new york yankees, nick johnson, october, pitching, randy winn, steriods, world series, yankee stadium
Leave a comment